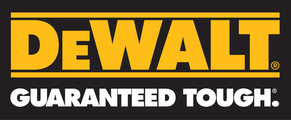 About DEWALT
"You buy a machine and what you really get is satisfaction, entire satisfaction."
                                                                                                                             - R. E. DeWalt
Raymond E. DeWalt followed in his father's footsteps by holding mill and constructions jobs from the time he left school. No matter what the job, the question of high labor costs always concerned him. To help cut these costs, occasionally he rigged up a machine to meet some special need.

Eventually, Mr. DeWalt was offered a position as head of a woodworking mill that manufactured almost everything from boxes to full-fledged houses. There was more to do than could be done, and the President of the company would not allow an increase in payroll. He simply had to get more work out of his men. Mr. DeWalt designed a yoke and attached it directly to a motor and saw, then mounted it on a standard arm. The saw could be raised, lowered, slid back and forth, moved to any angle, or tilted to any bevel. It did the work of four men and cut his labor costs beyond his fondest dreams.



1922 Raymond E. DeWalt, then superintendent of Seabrook Farms, perfects the first radial arm machine for the purpose of providing more versatility in woodworking operations.

1924 DeWalt Products Company is formed with plant and offices located in Leola, Pennsylvania. Their product is an electric universal woodworking machine known as the DeWalt "Wonder-Worker."


1929 DeWalt Products Co. moves to a new, and for those days, outstandingly modern plant and office building in Lancaster, Pennsylvania.



WONDER-WORKER
DW746X
1941 The DeWalt firm begins a period of rapid expansion to meet the demands of government orders in connection with national defense and wartime machinery requirements.


1947 DeWalt Products Co. is completely reorganized and re-incorporated under DeWalt Inc.

1953 DeWalt Inc. extends operations into Canada through a wholly owned subsidiary known as DeWalt Canada Ltd.

1955 Over the next two years, adds 40,000 sq. ft. of manufacturing space to the plant.


1960 Acquires United States and Canadian patent rights to Bennett Two-way Panel Saw from Richard C. Bennett Manufacturing Company, Laceyville, Pennsylvania.

1961 Adds 8,400 Sq. ft. storeroom to plant.

1966 Adds 16,000 sq. ft. warehouse to plant.

1967 Introduces bench grinder.


1971 Introduces metal cutting machines for ferrous and non-ferrous metals.

1989 DeWalt stops production of radial arm saws in North America.




FIRST "JOBSITE" CAR
TODAY'S JOBSITE TRUCK




1992 DEWALT introduces its first line of portable electric power tools and accessories designed specifically for residential contractors, remodelers, and professional woodworkers.

1994 DEWALT launches a revolutionary system of over 30 new cordless tools, including the most powerful cordless tool at the time, the 14.4 volt cordless drill/driver and 5 3/8" cordless saw. DEWALT cordless system included drill/drivers, screwdrivers, impact drivers, impact wrench, saws, flashlights, and the first combination drill/driver/hammerdrill.

1999 Matt Kenseth joins DEWALT Racing as its driver in the NASCAR Busch Series.

2000 Matt Kenseth and DEWALT Racing move into NASCAR Winston Cup Series. DEWALT purchases Momentum Laser, Inc. and the Emglo Compressor Company.




2003 Matt Kenseth wins the final Winston cup championship driving the #17 DEWALT Ford race car.


2005 As a result of DEWALT's extensive research with professional contractors, DEWALT developed SHOCKS – Active Vibration Control®, currently found on some of its SDS Plus and 1-7/8" and 2" SDS Max rotary hammers, which reduces vibration by up to 50 percent compared hammers without such systems.


2007 DEWALT introduces its first line of lithium ion battery powered tools across three voltages, 18V, 28V and 36V, effectively expanding the applications for cordless tools.
2008 DEWALT expands its miter saw range with the new 10" sliding compound





2010 DEWALT introduces the new 12V MAX* system of lithium ion tools designed to incorporate comfort and compact design with the power and industry-leading features contractors need on the jobsite. DEWALT also launches the Metal Cutting Diamond Blade line of accessories. The Diamond Edge provides 100x the life vs. standard DEWALT chop saw blade.
2011 DEWALT expands its lithium ion tools offering with the introduction of the new 20V MAX* System. DEWALT also continues to support it's 69 million 18V cordless system battery users with new 18V products. DEWALT Accessories expanded it's Impact Ready line adding over 100 products in drilling, screwdriving, holesaws and sockets as well as released over 20 new products in the Demo steel accesories line.

2012 DEWALT launches Perform and Protect line of products designed to provide a high level of one or more of the following: control, dust containment or low vibration, without sacrificing performance. Perform and Protect products include E-Clutch drills, E-Clutch and Low Vibration Grinders, 2-Stage Clutches, and SHOCKS®Hammers, dust collection - including grinder shrouds, hammer dust extraction, and a Dust Extractor with a universal connector. DEWALT also introduced the following accessories which DEWALT was the first to market; Impact Ready Step Bits, cleanable nut driver, depth setter and dust collectors. DEWALT also released a line of Guaranteed Tough Hand Tools.



Perform & Protect                                           Impact Ready Step Bits


2013 In 2013, DEWALT introduced it's cordless 20VMAX - XR line of Brushless power tools which includes brushless motors and high capctiy lithium ion batteries. The DEWALT Right Angle attachment is among the innovative accessories released by DEWALT this year. Today, DEWALT Power Tools line consists of over 250 corded and 200 cordless power tools and over 800 accessories.
"DO YOU HAVE THE RIGHT TOOLS?"
DEWALT is firmly committed to being the best in the business, and this commitment to being number one extends to everything we do, from product design and engineering to manufacturing and service. A big part of how we make sure our tools are the best is spending time with our end users, listening to their needs and concerns and discovering new and better ways to get the job done.

We hire, develop and reward great people who understand the importance of a strong culture that values integrity, commitment, teamwork and diversity. We are a fortune 500 Company and have been ranked as one of Fortune Magazine's Most Admired Companies.

Opportunity Snapshot:

   ● Market Leading Brands
   ● Innovative Products
   ● Dedication to learning & development
   ● Promote from within philosophy
   ● Competitive Salary
   ● Full benefits to include medical, dental, vision & 401(k) from the day you start
Thank you for showing interest in career opportunities with DEWALT.
Current openings
No open jobs at this moment